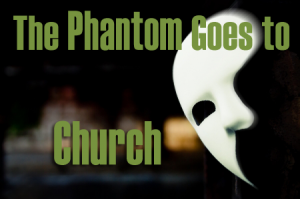 Since Donna Griggs and I began writing the "Ten Boom" project, friends have been great to recommend certain venues to contact. They named various churches, Christian universities, and theater groups. Also,  community playhouses they thought would "love to present Corrie ten Boom's powerful story, especially with the music."
However, as we began making contacts, we discovered something different.
Many church drama ministries preferred to present some better-known Broadway musicals as a way of "reaching out to unbelievers." Some quoted 1 Corinthians 9:22, as to the "WHY" of their theatrical ministries. It seems, they just hope to "get them in the door first."
A few thought presenting original plays (like ours) might be "Too Jesus-y." After all, they explained, "Some people come to church just needing encouragement."
Paul wrote that 1 Corinthians 9:22 verse… "I have become all things to all people that by all means I might save some."  But, of course, his whole heart was, that all people should come to saving faith in Christ Jesus. He told of the peace and hope found in Him, not just a momentary distraction.
Montage of Broadway Musicals
A few years ago, a friend suggested we contact a certain music director at a large area church here. We were enthusiastically invited to see a special montage of Broadway musicals they were presenting.  We were curious and accepted the invitation.  After all, we also love good theater!
When we arrived, the church was nearly filled to capacity, and the spirited fellowship seemed to hint at a revival of sorts. The Broadway "montage" unfolded with scenes from four entertaining (if not really faith-lifting) musicals.  Finally, a scene from the fifth musical began. Lights were dimmed in the large auditorium, as probably the most familiar of all overtures began, dramatically. Loud gasps mixed with cheers, especially from the young people there, filled the auditorium.
Suddenly, our host, the music director, took to the stage dressed in black, masked in the role of The Phantom of the Opera.  The church erupted!  To be sure, he had the voice, and did a convincing job of portraying the dark Phantom. Entertaining, yes… but a purveyor of peace and hope!?
After the performance, the young director told us he had "always wanted to play that lead role."  He "loved the music" and now was able to "kill two birds with one stone."  After all, shouldn't becoming all things to all people that by all means I might save some apply here, too? Hmm!
Let me think…
The Phantom character is an unforgiving, vengeful, enraged, hate-filled figure. He goes to great lengths to seduce a young virgin girl, confusing and twisting her mind through dark, lustful deception. He hopes to share his dank, be-candled underground world, and together find love, peace and even joy. Happily ever after, right?  By the way, he also terrorized and murdered several people in his pursuit of her. Most notably, causing a massive chandelier to plummet down on many!
Yes, I've seen the Broadway touring performance, even the spectacularly-produced film, at one point.  But, one thing I've noted about "The Phantom of the Opera" that would seem to disqualify it from a Church outreach program. It has a mesmerizing appeal to many theater goers. Certain young women are captivated by the tragic ("he just needs love and I can fix that") character. Many think it a romantic story, as the Phantom beguiles the leading lady (and, in this case, much of the church). Surely such lyrics as, "You can't resist, the Phantom of the opera is there inside your mind," give way to some kind of ministry!? Uh… maybe NOT!
As the talented, no doubt well-meaning, young music director finished singing the Phantom's sad, seductive song… the (mostly) young girls in the church screamed and cheered.  Captivated… enraptured!?
What Are We Teaching Our Youth?
Is this what we want for our youth, or ourselves?  Do we not get way too much of that from our more and more secular culture now?  Proverbs 14:12 says,"There is a way that seems right to a [person], but the end is destruction.".
When someone has been sifted by whatever life has thrown at them, even of their own doing, and they finally walk into a church seeking truth they haven't found in the world… as they come needing peace and hope, not just another 'Band-aid'… isn't it our Commission as the Church to help them find that hope in Christ Jesus who is the Way, the Truth and the Life… the One we say we believe?
Donna and I wrote "Ten Boom the Musical" to share the life-inspiring, true story of an extraordinary woman who found victory for herself and others despite the darkness of the Nazi Holocaust.  Who would argue that evil is alive and thriving in this world?  It seemed to us, the example of a real-life hero, someone with deep faith, personal integrity and courage is a more compelling outreach for our youth or anyone else.
But, lest we forget the Phantom…
Should even the darkest of "phantoms" (and there are many of those out there these days) become weary of their ways, and come to the Church to find that peace, hope and genuine concern for their lives… what will we offer them that will prove to make the difference?
We would love to hear from you as you consider presenting this uplifting, musical telling of Corrie ten Boom's powerful true story, "Ten Boom the Musical." She overcame the real phantom, even through the Nazi Holocaust.
[Ten Boom the Musical shares the true and powerful story of Corrie ten Boom. To present this musical at your church or venue, contact us at 615-425-2652, 615-300-8591, or email us at [email protected]]