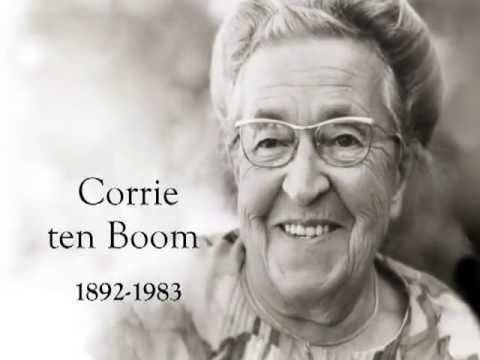 Born in 1892 in Haarlem, Holland (The Netherlands), Corrie ten Boom lived with her parents Casper and Cornelia ten Boom, her older sisters Betsie and Nollie, and an older brother Willem. Casper ten Boom was a much-loved watchmaker whose father Willem had established the family watch business in 1837. Corrie became the first woman watchmaker in The Netherlands. The ten Boom family, including three maternal aunts and eleven foster children, resided above the watch shop over more than 100 years.
During World War 2, as Jews were being hunted and exterminated by the Nazis, Corrie and her Christian family joined the resistance, the Dutch Underground, hiding more than 800 Jews in a secret room, specially built behind a wall in Corrie's upstairs bedroom; later helping to transport them to safety in other countries. In February 1944, Corrie and several members of the ten Boom family, along with some friends visiting their home, were betrayed, arrested and taken to prison where many of them died. Corrie survived three Nazi concentration camps—Scheveningen, Vught and the notorious Ravensbrück women's prison, where more than 96,000 women were exterminated.
Corrie's first book, "The Hiding Place," written with Elizabeth & John Sherrill, gave her story international attention. Her courage and miraculous story went on to inspire hope in people all around the world as she shared her experiences, speaking in more than 65 countries. The 1975 film titled "The Hiding Place" starring Julie Harris and Jeannette Clift George (as Corrie), brought Corrie ten Boom's story to the big screen and continues to inspire millions of people today.
For her efforts to hide Jews from arrest and deportation during the German occupation of the Netherlands, and her ongoing support of the Jewish plight, Corrie ten Boom received recognition on December 12, 1967 from Yad Vashem Remembrance Authority who sited her as: "One of the righteous among the nations. In resisting Nazi persecution, Corrie acted in concert with her deeply-held beliefs, her family experience, and the Dutch resistance. Her defiance led to imprisonment, internment in concentration camps, and loss of family members who died from maltreatment while in German custody."
Corrie, who never married, was released December 31, 1944 due to a "clerical error." She later opened a large home in Holland to care for many of those who had survived the camps. She traveled the world sharing her story in more than 60 countries, until age 83. Corrie ten Boom died at her California home on her 91st birthday—April 15, 1983. A simple grave marker in Fairhaven Memorial Park in Santa Ana, California attests to her unassuming life.
The ten Boom "hiding place" home in Haarlem, (Holland) The Netherlands, now stands as a museum operated by The Corrie ten Boom House Foundation. The watch shop is still open to the public.
Ten Boom the Musical
Is dedicated to the memory of Cornelia ten Boom
(April 15, 1892 – April 15, 1983)
And all the ten Boom family