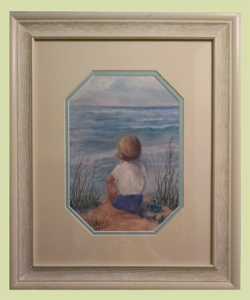 Sitting high on a sandy cliff, gazing out over what seemed an endless sea, I remember thinking, "What's out there?"
A favorite print that hangs on a wall at home shows a little blond-headed girl sitting on a sandy beach, reminiscent of a place our family lived long ago.  The child in the print, maybe six, is dressed in a white blouse and blue shorts; tiny deck shoes lying beside her in the sand.
I had found the old print among the dust and clutter of an antique shop in Tennessee some years back and was struck by my own memories at about that age, sitting high on the dunes of Carmel by the Sea, now far away, playing with grassy reeds and shells; watching the waves roll in to shore, and seagulls noisily doing fly-by's.
Unable to see beyond the vast Pacific Ocean, I couldn't imagine the infinite possibilities. "What's out there?" I wondered.
Did one of the many Carmel artists take time one day to capture the little dreamer I was on canvas? Even the Dutch boy haircut on the child in the print was the same as mine back then.  I've never stopped wondering about life, and asking questions about it.  My mother would tell you it was one of my most annoying attributes.  It's also what led me to seek after God.
Is God real?
"No one can know God!" Mom said that many times when my sisters, Judy and Donna, and I were still wearing her out with our many questions and some shrill tattling.  Our parents never went to church, but sent us alone occasionally, maybe to give them a quiet Sunday at home.  The rule in our house was, never to discuss religion or politics. And—except for saying a memorized "grace" prayer before dinner now and then—we never did.
My siblings and I were pretty much left to our own fancy as to what God was about. For me, it only prompted a deep curiosity about what was written in a dusty old King James Bible that sat neglected on the shelf at home; sneaking peeks into that Book more than a few times. Unfortunately, meeting head-on with the "begats" (and not understanding this was NOT like other books that offer a plot, a story and a certain ending), I soon gave up trying to make sense of it.
It would be forty years, and a lot of looking for love and other answers in many wrong places, until I would seek answers beyond my mother's understanding that, "No one can know God."  Thankfully, I would discover the opposite was actually true… that the answers to all my most important questions had been right there in that dusty old Book all along.
Finding answers
It began one night when I was on the road, touring with my band out of Nashville, Tennessee.  Our front man, Butch, was driving our oversized van and watching me out of the corner of his eye, as I sat in the "shotgun" seat; my stocking feet against the glove compartment, engrossed in a nondescript novel.  Butch finally asked, "Susan, why don't you read the Bible?"
Suddenly, inexplicably irate, embarrassed even, I shot back with, "Why don't you mind your own business!"  He had just driven on then.  But, for days after that I couldn't get his question out of my mind.
"I'm an intelligent person," I assured myself. "I'm always curious about things… doing, seeing new things… reading all kinds of books.  So, why haven't I read THAT one?"  Up to that point, I'd had a (bad) habit of using a book, even a Bible, in any of those on-the-road motel rooms, as a prop for the lid of my makeup case… its contents still neglected.
Strange, that a few days later, arriving at another venue where we would perform, I would find a paperback book in my motel room! The cover read, "FREE, take this copy with you."  The inside title page read, Good News For Modern Man.  About that time, so many things were going wrong in my life, and mostly I missed my children back in Nashville.  I needed some "good news!"
A most important question
After our last show that night, in the quiet of my room I settled into bed with the FREE book. Jumping right past the Table of Contents and the Introduction, I began to read.  "What IS this?" I wondered cynically, "the Dick and Jane version of that dusty old King James Bible back home?"  But, by the time we packed up to drive on to the next venue, I had read several chapters, still not really understanding.
Not long after, back on the road, Butch was again driving the van as I sat on the passenger side, this time reading the "Good News" paperback.
I had just one question for Butch:  "Who did this guy think he was, anyway…" I asked facetiously, "…God or something!?"  Butch's wordless, half-smiling shrug, in response to my question, was the beginning of a whole new life for me…
Over the next several years I would find myself singing a new song; spending time with my children and family in more meaningful ways; finding friendships I'd also never known were out there.  I was soon hosting/producing Christian television programs, and working with a radio media agency.  I was blessed then to marry my best friend, who encouraged me to write my first book.
Called to write a Musical
A few years later, my real sister, Donna Griggs, and I were led to write a full-sized musical stage play about a Dutch woman and her family who had been imprisoned for hiding Jews from the Nazis during World War 2. Corrie ten Boom and her real sister, Betsie, brought hope to prisoners in three concentration camps then, sharing that same "Good News."  Our hope is to continue to do the same, by way of this musical telling of Corrie's powerful story, "Ten Boom the Musical." 
Remember that little girl in the print? The one sitting high on a sandy hill in Carmel by the Sea, now far away from my Tennessee home, wondering, "What's out there?"
I'm thankful, over many years since, to have seen much of the world.  And I'm eternally thankful that, when I had lost the wonder of childhood, and even the will to keep trying, in one stunning moment the Lord had changed my life.
So, what is out there?
I know now, it's the beauty that God made… the ugliness that sin has wrought… and a world of people out there who need assurance of the love of the Lord who gave His life to redeem us all, on another hill far away.
[Ten Boom the Musical shares the true and powerful story of Corrie ten Boom. To present this musical at your church or venue, contact us at 615-425-2652, 615-300-8591, or email us at [email protected]]