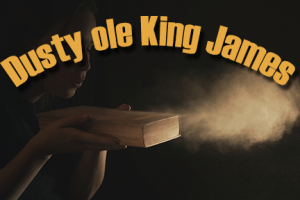 There were few children's books in my childhood home in California in the fifties.  Don't know why, but reading wasn't stressed by our parents; other than for school homework.  I remember we had a couple of Judy Bolton Mystery books. I liked those. Also, a well-worn Mother Goose book, and a hardbound collection of Grimm's fairy tales. I see now, the value of taking children to a local library.
The books that otherwise lined our mahogany-paneled room dividers back then included a long-out-of-date set of encyclopedias, and other unappealing literature.
However, one book stood out to me, even as a young girl.  Mom told us the book was "too sacred" to touch, or "couldn't be understood."  A few times, she even described it as, "the dirtiest book in the world."  She must have been having a bad day!  But, that sparked my childish curiosity!
One day, when it got the best of me, I dusted off the cover and began to read.
The first part, about how God made the world, was riveting. However, coming to the "begats," I lost interest.  Why all those "funny" names anyway, I wondered?  I didn't know the Bible was actually 66 books in one.
It would be decades before I attempted to read such a book again.  I just left that dusty ole King James Bible on the shelf.  Whatever happened to that mysterious old volume, I don't know; but for many years, it seemed to beckon me.
Creativity Sparked By Guilt
I can't remember what I did wrong one day that caused terrible guilt feelings, but at twelve years old, I wasn't about to confess whatever it was to another person on earth.  So, I thought of God and that dusty old King James Bible, and decided to write my first song.  Remember now, I was only 12…
                Maybe I'm a sinner and maybe I ain't… I hear you calling but your voice is faint
               Yes, maybe I'm a sinner, but when I go… Don't let me go down below.
               I hear you calling in an anxious way… I was wrong, I owe a price, and now I must pay
               Yes, maybe I'm a sinner, but when I go… Don't let me go down below.
[Bridge]   O Lord hear my plea, and have mercy on me… I'd rather be in He-eh-ehven with thee
               His voice is getting louder, and I am getting hotter, And to Him I must go
               I'm going very slowly, but when I go… Don't let me go down below.
Well, you might know, the song wasn't a hit (go figure!), but somehow just writing it made me feel better.  Years later, I would recognize that what I had written in those desperate, albeit juvenile lyrics might be called a "sinner's prayer"—a prayer for salvation.
It would be nearly thirty years before I would say an even more desperate prayer—February 27, 1984—seeking God's forgiveness for a whole lot of foolishness in my life. I believe now, He was listening the first time. But, this time it would change my life for good.
Another Road, Another Song
Prior to that 1984 prayer, I had toured as a background and duet singer with Grand Ole Opry star "Whispering" Bill Anderson's show, all over America, Canada and parts of Europe and the Caribbean. We even appeared on a daytime drama, "One Life To Live," for a season.  Before joining "Whisper," I had been on the road nearly thirteen years with my own show.
I'm thankful for that experience, but I became weary of the endless trips that took me away from my three children back home in Nashville. I admit, I hadn't thought much about God in years… nor that dusty ole King James Bible. You know, the one I had poured my heart out to in song at age 12.
Now, past 30, life had become too great a challenge.  I was tired of the road, cynical about the future for me and my children, and discouraged about my prospects for music, or any other kind of real success.  Running On Empty, as the old hit song goes!
It was 1981, and I was applying my makeup in the small bathroom on Bill Anderson's Silver Eagle bus one early morning. The other members of the show still slept in their bunks as our bus driver, James, drove on down the still-darkened highway toward our next gig. Looking in that bathroom mirror, lipstick in hand, I decided to write another song.  Too cynical for my own good, but thinking I was pretty clever, the song made me laugh.
I think now the Lord was not laughing… He was going to have to rescue me.
As I remember, the song went like this…
       I remember the day that my daddy took me there… To the John Jacob New Revival Church
       No, there wasn't a day that we didn't say a prayer… In the John Jacob New Revival Church
       [Dum dum de dum… can't remember this line]… Don't be shy, and you'll find the words to say
       Put your two hands together and raise your voice up high, 'Cause He's listening, no matter where you pray
       Oh, the very best prayer that this girl has ever said
       Was in the John (in the John).. In the John (in the John)… In the John Jacob New Revival Church.
Now, if that doesn't tell you I needed saving—or at the very least slapped—what can I say!?
Even so, a few years after that, I found God's grace and mercy in a large Nashville church, when the Lord had to speak right out loud, to get my attention.  He DID!
You see, I went to that church at the lowest time of my life, feeling angry and defeated; thinking to shake my fist in God's face. I challenged Him, in my mixed-up mind, to "show Yourself or I'll never believe You, ever."  He DID!
Seek and You Will Find
I learned that day that all I had rejected about God and Jesus Christ was real after all.  And that everything I had thought was true was a lie!  The most important truth I, or anyone else, could ever know!  It was what Corrie ten Boom spent her life sharing with others, even in Nazi prison camps. Now I understood why she did that!
Ten Boom the Musical

In 2009, with God's help, my sister Donna Griggs and I were blessed to co-write some really wonderful songs for our stage play, "Ten Boom the Musical."
Faith in Jesus Christ blows the dust off any of our hopeless philosophies and habits! That ole King James Bible that my family allowed to gather dust all those years, had held the treasure of the heart of God.
Once you get that Good News in your own heart, you just have to tell others. It really is a matter of life and death, hope or despair, making sense of this world, or being ever-confused by it.  It's a choice God allows each of us to make.
Praying you will choose to find that treasure, and do life His way.  He loves you!