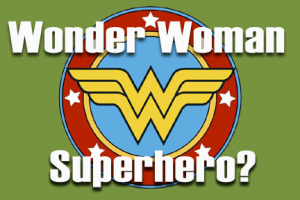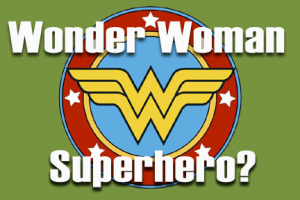 Wonder Woman, the latest in a string of blockbuster, superhero-saves-the-world films, is a visual feast for DC, Marvel and other comic book fans out there.  My husband Philip and I grew up when those "funny books" (as some called them) were in every kid's hands. I had a drawer-full at home.  I loved "superheroes" back then!
So, remembering those times, also the 1970's TV series starring Linda Carter, Philip and I went to see the new film.
What does this have to do with Corrie ten Boom, you ask??  I believe, if you will read and not just scan my "comparison of heroes" here, it will all come clear to you!
So, please read on…
Movies are a powerful medium for changing hearts and minds, as many would agree who saw "The Hiding Place" film years ago. What we allow ourselves to be influenced by, good or otherwise, generally determines our future!
Being a life-long movie buff, I just enjoyed the film for what it was; a fanciful, action-packed romp, pitting good against evil, allowing the good guys to win the day. I like that!  For all the over-the-top high jinks and mythological blabber in the film, actress Gal Gadot is the quintessential "Wonder Woman." Moreover, the film actually has some worthy messages.
My sister Donna Griggs saw the film and reported back. "Wow! I saw all kinds of wonderful things about relationships… unselfish sacrifice. Strength… love overcomes evil!"
I remember loving the character, especially when I was too young to understand any of the political or social implications. It seems now Wonder Woman has come full-circle since her inception in the early 1940's!
The Wonder Woman Character
According to Wikipedia, the fictitious Wonder Woman character was created by American writer and psychologist, William Moulton Marston, with artist Harry G. Peter. The character first appeared in All Star Comics in October 1941. Caution: Marston drew a great deal of inspiration from early feminists, and especially from birth control pioneer, Margaret Sanger. She was founder of the American Birth Control League, later known as Planned Parenthood. As the Feminist Movement grew, in 1971 Gloria Steinem placed her concept of Wonder Woman on the cover of Ms. magazine.
Identified in the film as "Princess Diana of Themyscira, Daughter of Hippolyta," Wonder Woman is also known (in her street clothes) as Diana Prince. In the Carter series, Diana identified herself as "the daughter of Isis." Hmm!
As the film begins, Diana is introduced as a feisty little girl with a secret not yet known to her. She's the only child on an isolated island of warrior women (not one man), known as Amazons. Hiding from the evil war god Ares, these female descendants of mythical gods have tired of war—and MEN, whom they blame solely for all the world's ills.
Wouldn't you know, along comes a World War I pilot, played by actor Chris Pine [latest Captain Kirk, Star Trek] who crash-lands into the sea near Paradise Island, later proving to Diana's heart that, "Love is the only thing that can defeat evil." 
Ah, now we're getting somewhere!
Maturity Changes Our Heroes
Having added some years since my "funny book" days, plus a more realistic outlook on heroes, and "gods"… I had to wonder…
Why is it that human beings (especially us women), ever-longing for love and rescue from life's enemies, turn to fanciful "heroes" for comfort?  Yet so many reject the very real Father God, the Eternal Superhero, who created and loves us! To all our detriment, many choose instead to believe fiction over Truth. Yet, His Book assures us that, GOD is love!
In ancient times, when mankind began to multiply on the earth, we soon proved to have a fatal flaw—PRIDE.   Created in God's image, and provided for in every way, we decided we could just "take it from here." We could be our own persons—no thanks to or respect for the One who gave us the earth under our feet. By the way, He also gave us the air we breathe, and the promise of the love and covering we innately desire.
Enter Abraham, a nomadic leader, long since venerated for proving himself true to God. Later came Moses, born a Hebrew, but raised as an Egyptian prince. At age 80, he was chosen of God to deliver the Hebrew people out of Egypt and slavery. Great men of faith!
But Abraham and Moses were not Superheroes, just men who obeyed the One they recognized as the one true God!
Wonder Woman and Other "Heroes"
The Diana Prince character is portrayed as empathetic, courageous, loyal, compassionate! Not to mention, able to throw tanks at will!  Personally, I liked Diana, but then, I liked Superman, Captain America, Tarzan, and Mighty Mouse. I also liked some less-superhuman characters such as Atticus Finch, Indiana Jones, and, oh yes, "Uncle Tom" (often given a bad rap). ALL heroes, and yes, all MALE figures, but surely fictitious!
Someone wrote, "A hero can be just about anyone, from a steadfast politician working to secure world peace, to an average man or woman who demonstrates remarkable bravery and giving."  I've been blessed to meet many of those—soldiers, cancer survivors, foster parents, teachers, firemen, police officers, pastors, stay-at-home moms, over-comers, truth-tellers…
History lists some extraordinary people who were or are heroes to any of us. Sadly, for many, those "heroes" have replaced any veneration or regard for the one true God.  Could any of those help us reach heaven?
More "Wonder Women"
My personal list of heroic, real life women includes: Mary, Ruth and Esther of scripture. Also, Harriet Beecher Stowe, Anne Sullivan, Helen Keller, Harriet Tubman, Margaret Thatcher, Gladys Aylward, Rosa Parks, and Madame Curie.
But, one special woman stands out for me… Corrie ten Boom, a true wonder woman, yet no Superhero… just a woman who loved and trusted God!

Raised in a Christian home, Corrie ten Boom was never known to lie, she never betrayed a friend or a neighbor. She was also fiercely loyal to her family. She never married, yet taught many children and youth how to live uprightly and courageously. Risking their lives, she and her family rescued and hid Jewish people during the Nazi occupation of Holland. For that, they were later arrested and taken to concentration camps. Corrie survived three such camps, in the meantime sharing the hope and love of Christ the Savior with many. She wrote many books and visited 60 countries, telling virtually millions that, "No pit is so deep that God's love is not deeper still." Corrie was a true and humble woman of faith, who proved herself heroic in the face of great evil during WW2.
Corrie, Wonder Woman and Mere Mortals
I wonder what Corrie would have thought of the "Wonder Woman" character, who was conceived in Corrie's era (1930s-40s). Corrie—certainly not a "feminist," nor one who would have espoused Margaret Sanger's views—was a woman of real character and strength. She also extended true compassion and grace to others different than herself.
My guess is, Corrie would have liked "Diana" for the courageous character she was, if only a writer's fanciful creation. And, I'd like to think even a Wonder Woman would have loved and been humbled by the powerful faith of a very real woman named Corrie ten Boom, who always gave the Lord any credit for her victories and accomplishments.
The First Commandment says, "I AM the Lord your God, you shall have no other gods before Me." Not even "Superheros"! And Christ Jesus—the Word, and Almighty God in the flesh [John 1:1-4, 14]—revealed, "I AM the Way, the Truth and the Life; no one comes to the Father except through Me."
Superheros are characteristically "immortal." Not so, human beings! When I was younger, I came out of many a film visibly moved, inspired, disappointed, exhilarated, even depressed, at times. That's what movies are meant to do—touch us where we live! Superheros give fans the sense that they can "fly," when life may seem to be holding them down. However, trusting our emotions and romantic notions to fictitious or even real-life "heroes" can be problematic, if not fatal.
TRUTH IS, we mere mortals must find our hope and assurance in the Truth. After all, the Lord actually DID come to save the world!
As Corrie would say, He's the one who died and rose again that, trusting Him, we might also.
Now THAT's a Superhero!
# # #
[Ten Boom the Musical shares the true and powerful story of Corrie ten Boom. To present this musical at your church or venue, contact us at 615-425-2652, 615-300-8591, or email us at [email protected]]